Tips On How To Keep Your Memories Alive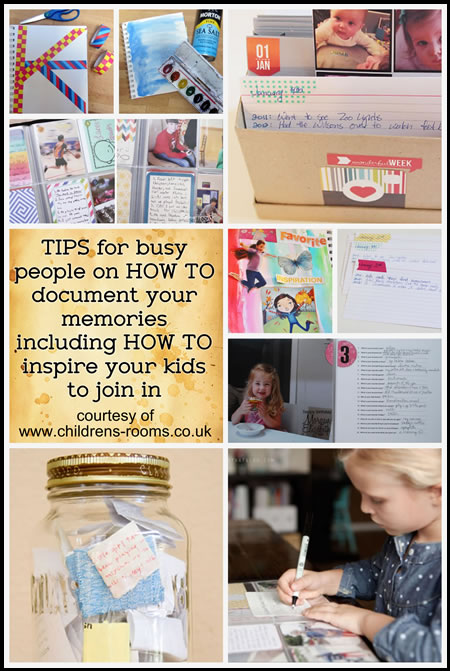 - - - - - - - - - - - - - - - - - - - - - - - - - - - - - - - - - - - - - - - - - - - - - - - - - - - - -
Memories are precious but with modern life moving so fast time is tight and although it is easier than ever to take photos on the go with mobile phones and tablets many of us leave them languishing on the device and never actually do anything with them either because we lack time or inspiration.
Children say the funniest things and some times the smartest most profound things too and you might remember to tell their grandma, when you next see her, or your friend at work but before you know it that memory slips your mind and it is forgotten.
You might look at your life full of kids, housework and your job and think memory keeping is too time consuming and just not for you but there are things that even the busiest person can do to save cherished memories.
Why not get the kids involved too? While they are having fun remembering the good times they have had they are practising their writing and spelling which is an added bonus.
- - - - - - - - - - - - - - - - - - - - - - - - - - - - - - - - - - - - - - - - - - - - - - - - - - - - -
FIRST DECIDE WHAT YOUR ULTIMATE GOAL IS
To record precious memories to look back on in the future.
or
An activity the family can do together.
or
To encourage your child to practise their writing and spelling.
If your main goal is using memory keeping simply as an activity to encourage learning or to have some fun as a family then it really doesn't matter what materials you use however if you want to keep your records long term then it is important that you use products that are acid and lignin free.
- - - - - - - - - - - - - - - - - - - - - - - - - - - - - - - - - - - - - - - - - - - - - - - - - - - - -
WHAT DOES ACID AND LIGNIN FREE MEAN AND WHY DOES IT MATTER?
When you see old photos that have faded and gone yellow or a discoloured newspaper this has happened because of the acid and lignin contained in the paper. Lignin naturally occurs in wood and acid is used in the manufacture of paper. Over time the acid and lignin react with air and the paper degrades and discolours.
However scrapbook quality paper has the lignin removed and is manufactured with out using acid. Of course this makes it more expensive but it does mean that the paper will with stand the test of time. If you are memory keeping with the intention of holding on to your projects for years to come then everything you use, including glue and plastic pockets, should be acid and lignin free. This will also prolong the life of your photograghs.
- - - - - - - - - - - - - - - - - - - - - - - - - - - - - - - - - - - - - - - - - - - - - - - - - - - - -
WEEK TO VIEW DIARY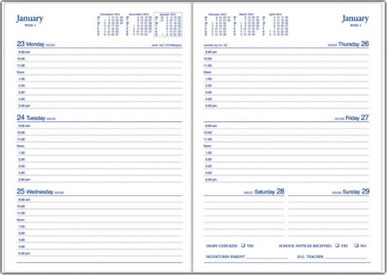 Even if you are ridiculously busy you should be able to make use of this idea. It is ideal for the parents of a new born, for a family with lots of children with after school activities who need mum or dad to be the taxi service or a young professional couple who work long hours.
The best part is that you can use the diary now while you are pushed for time and then take the information out of it at a later date and marry it up with your photographs to scrapbook or journal with if you choose too.
Another great plus point is that there's not much out lay required here ... I buy a cheap diary off Ebay in January when they have been marked down in price and just make notes on a piece of paper until it arrives but even if you buy one at full price to save the hassle of transferring your notes over they are inexpensive.
If you have a little more time on your hands, or have a couple of children, you might prefer a page per day diary which gives you more room to write.
The idea is not to feel pressured in to completing it every day but leave it somewhere handy and then if your little one says something funny you can write it down or at the end of the day when you have tucked them up in bed you can write things like "Took first steps ... at grandmas ... reaching for the dog." or "First hair cut - cost 1.50"
Nobody is going to mark you on your spelling, grammar or your hand writing so as long as you can understand it when you read it back that's all that matters. You don't need to use sentences. Just jot down quick notes.
Try to be strict with yourself and download your photos off your phone, tablet or camera at least once a month on to your computer. Create a folder on your desk top called PHOTOS and then you can make a new folder inside this named with the month and year as you down load your photos. This will really make a difference when you get chance to work with your photos at a later date and in reality it doesn't take much time to do if you keep on top of it.
- - - - - - - - - - - - - - - - - - - - - - - - - - - - - - - - - - - - - - - - - - - - - - - - - - - - -
DIY MEMORY BOX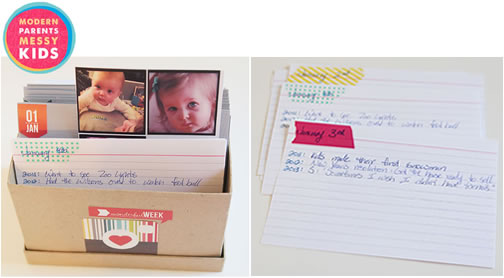 This is a fantastic idea for busy people and a step up from the diary system. I'm going to start doing this myself as it will really help me with my Project Life scrapbook (more about this later).
The idea behind this is the same as the diary system however you write your information on index cards and file them in a box which allows you to print off your photos and store them along with the relevant memories.
How you organise your box is up to you and will depend on how much time you have at your disposal and how much information you need to record.
Ideally you need to have tabs sticking up so you can easily find each month. This doesn't have to be anything fancy just cut a strip of coloured paper and fold it in half. The bottom third will overlap the record card and needs to be glued in to place, or if you are pushed for time use sticky tape to secure it, then write the month on the tab. This means you don't have to file through all the cards to find what you are looking for.
Now it's up to you ... you can have one card for each month and simply write an entry on it as and when some thing happens or you could have a card for each week. You could have one card for the days of a week and a second for the weekend, giving you two cards per week, if you have lots of things to write down. If you have a big family and lots to record have a card for each day.
In the end you can take the basic principle of this idea and make it work for your circumstances.
Remember to keep up to date with downloading your photos - check out the advice given in the "Week To View Diary" section. This system takes your photo filing to the next level as you can get them printed and pop them in to the box along with the information ready for you to scrapbook with when you have spare time.
What I love about this is that if you are still at the swamped stage you can use this filing box and come back to it later to expand on your memory keeping but if you are already at the point where you have a little more time on your hands then this will help you organise yourself so that the available time you do have can be spent doing the fun stuff rather than sorting through piles of information trying to make sense of it.
I found this brilliant idea on Modern Parents Messy Kids.
- - - - - - - - - - - - - - - - - - - - - - - - - - - - - - - - - - - - - - - - - - - - - - - - - - - - -
MEMORY JAR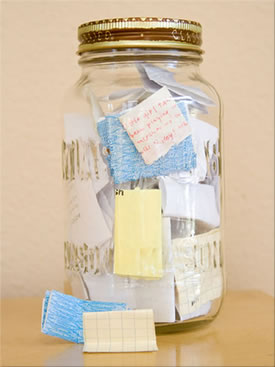 The basic idea of this is extremely simple.
In it's very simplest form all you need is a clean jar with a label on it showing the year, a pen and some paper. Each time something happens that you want to remember write the date on a small piece of the paper and brief details of your memory then fold the paper and pop it in to the jar.
You can customise your jar with stickers or craft goodies. This is a great opportunity to get the kids involved. You could have one jar for the family to share or a jar each.
In the new year when Christmas is over and the New Year celebrations have died down things feel a little flat. Open up the jar and dip in to read you memories of the previous year. You could make it a purely personal thing or a sociable family occasion.
Keep in mind that sad things and things that made you unhappy at the time can have a place in your jar as it can help to write down your feelings and move forward.
This actually makes a lovely, inexpensive gift too. Discount stores stock jars with lids, packs of pens and telephone jotter style square pads of paper. Include a tag with an explanation for the recipient so they know what to do.
- - - - - - - - - - - - - - - - - - - - - - - - - - - - - - - - - - - - - - - - - - - - - - - - - - - - -
PROJECT LIFE - Quick And Easy Scrapbooking - Acid Free.
Featuring
Becky Higgins Project Life - www.beckyhiggins.com
Simple As That Blog - www.simpleasthatblog.com
Hey Little Magpie - www.heylittlemagpie.com
The most important thing to remember is that this system is acid free which bumps up the cost but ensures that your memories are kept safe for generations to come. Initially the cost might put you off but there are compromises that can be made to make it more cost effective if you are on a tight budget. For example you can buy the album and cut 12 inch by 12 inch pieces of plain scrapbook cardstock down to size rather than using the Project Life cards and this will drastically reduce your out lay. With that in mind I will tell you about the system and you can make your own mind up.
Becky Higgins came up with the idea of the Project life system to help people who either did not have time to scrapbook in the traditional way or were daunted by the thought of trying to fill a 12 inch by 12 inch piece of card stock, which is the standard scrapbook page size. I fall in to both of these categories and so when I stumbled across this system purely by accident I got very excited.
The system is designed to work with 6 inch by 4 inch photographs, or cards, and 3 inch by 4 inch cards. The acid free plastic display wallets are split in to sections and you simply slip your photos and your cards in to the wallets to make your display.
There are two sizes of album to choose from. The mini album, shown in the photo above, is a great place to start. Each double page spread gives you spaces to slot in four 6 x 4 inch photos and four 3 x 4 inch cards. However once you have been bitten by the bug you will want to move on to the 12 inch by 12 inch album and an example of the page protectors can be seen below. The layouts are identified with letters. A and D are very popular and the ones I use the most as they are so user friendly but there are a multitude to choose from now including ones with square pockets for instagram photos and square cards. The turquoise blue colour is used so you can see immediately where your 6 x 4 photos or cards will fit and the orange colour is used to show you where your 3 x 4 cards will fit.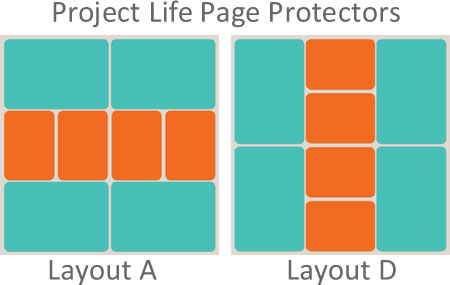 There are acid free card Core Kits available to team up with your photos. An example of a core kit is shown below. You use these to write your journaling on, add information about dates, people and places and inject a little interest. The full size kits come with a hefty price tag but are stuffed with plenty of cards which actually do offer plenty of value for money however Mini Kits are also available and recently Becky Higgins has released Value Kits which are much smaller kits in much cheaper packaging and are perfect for you to try out and dot around your album to add some interest.
My favourite online shop is Hey Little Magpie, who used to be Sarah's Cards. As an extra bonus when you make a purchase you earn points which you can cash in against future orders. Of course you can shop around on line and decide to buy elsewhere but this is a good place to start to see what is available and get an idea of how much things cost.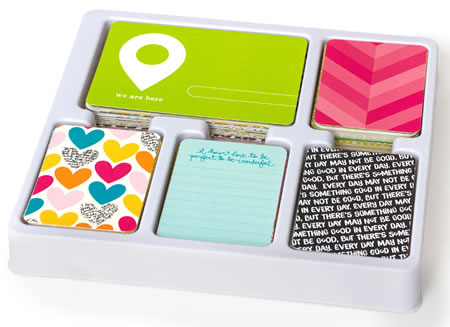 Remember you don't have to use the pre printed core kits. Becky Higgins offers packs of plain white or cream cards in both sizes but you can buy plain acid free scrapbook card and cut it to size yourself to bring the cost down even further. Plus you can buy pads of inexpensive patterned scrapbook paper and cut that to size to use too.
Some thing else to remember is that scrapbooking has seasons and trends. Designers issue a batch of a particular item and when it has gone it has gone. So on the one hand if you see something and you must have it (avid crafters will understand this impulse) then don't wait but if you are on a tight budget end of season sales are a great time to stock up. Just make sure you are buying acid free.
As I've said before there are no rules. This is not school. Nobody is going to tut at your hand writing or point out mistakes in your grammar. There are no rights and wrongs for layouts or colour choices. This is your project. In years to come your kids will be able to show their kids a snapshot of how life used to be ... a very precious thing. You may hate your own writing but your descendants will cherish this piece of you.
Okay enough of the technicalities ... what does it look like in action?
Well to illustrate this I'm going to introduce you to one of my very favourite bloggers ... Rebecca from Simple As That Blog who I originally started following because of her fab photography tips.
This first double page spread is from a mini album and features Halloween and you can visit her site to see how she put it together by clicking here. Rebecca has included lots of journaling but you could use more photos and just have one card for your writing if you are pushed for time or stuck for what to say.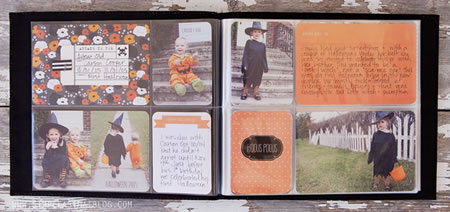 And now for the really cool part ... if your kids can write then they can do this and with minimal input from you. Start with a mini album, I have attempted a 12 by 12 double spread for each month with my 5 year old this year and it has proved a challenge to keep up with it but the smaller mini album is much more achievable and so Santa bought one from Hey Little Magpie in the September sale ready for this Christmas and next year instead of being restricted to a monthly theme she can have free reign.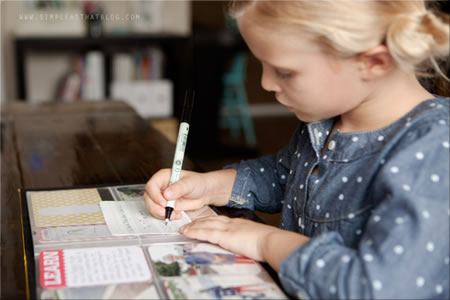 The picture below is a double page spread from Rebecca's daughter Addie's Project Life album and gives you some good starting points.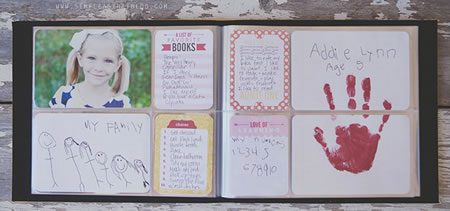 Some children will take this idea and run with it while others might need prompts. In addition to keeping a record of things that have happened you could ask them to draw a picture of their favourite animal or list three of their favourite books. Ask them to write down who they like to play with right now or their favourite teacher. Who makes them laugh. What would they change about their life? Make sure there are dates on the cards. I write "Written on" and the date on the back but older children will be able to include this information themselves.
While this is a handy way to sneak in some additional writing and spelling practise for your children remember that it needs to stay fun. The minute it starts being a chore you've lost them. It's also important to remember that it's their book. You can keep your own with the things you want to remember in it and so if they want to draw a picture of the slug they found in the garden or the write a list of One Direction songs they love the most just go with it and give them a big smile.
- - - - - - - - - - - - - - - - - - - - - - - - - - - - - - - - - - - - - - - - - - - - - - - - - - - - -
ART JOURNAL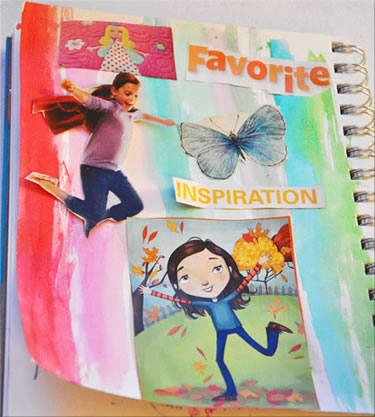 This is not a solution for anyone looking for a time saving memory keeping idea however for anyone with creative flare it is a lot of fun.
By extension of that it is the perfect way to inspire older children to get stuck in to memory keeping as they can express their own individual creativity.
When you put together an art journal you don't just write in it you also create the pages to write on by painting, printing or drawing on them or sticking things to the paper.
Here's the good news ... there are no rules. You can write about what ever you like in what ever form you want to so if you don't feel like writing a paragraph just jot down bullet points and if you don't feel like writing at all cut pictures or words out of a magazine or use stickers. Embellish with glitter or colourful tape (washi tape).
All you need to start with is a note book. Spiral bound is best as it allows room for the depth of the note book to grow a little as you add to it. Obviously you are restricted by your budget but if you are going to be painting and gluing pages buy the best quality book that you can afford.

If you already have a stash of crafty goodies that you or your kids can use then fantastic just let your imagination run wild if not buy an inexpensive pack of kids paints and use household objects, like empty yoghurt pots or sponges, to print on the pages.
Creative With Kids (.com) featured some good ideas which are easy to replicate. I have included photos of them above. For the first one use water colour paint all over your page and then sprinkle sea salt on to it while it's wet. The courser the salt the larger the mottled pattern that you will get. Once the paint has dried shake the salt away to reveal a textured design.
The middle one is super easy. Simply stick coloured tape to the page. You can split the page up randomly or you might have a plan in your mind.
Lastly something as basic as a roll of sticky tape can create a stencil for you to decorate a page with. Stick to one colour of pen or use a few different ones. The choice is yours. Now instead of a plain page you have a piece of paper split in to sections for you to write in.

This is a two stage process, creating the page and then recording information on to it. If you are using this method to inspire your children remember that their ideas and the things they want to remember won't necessarily match yours so you need to take a step back and allow them the freedom to go in the direction they want to take their journal.
- - - - - - - - - - - - - - - - - - - - - - - - - - - - - - - - - - - - - - - - - - - - - - - - - - - - -
20 QUESTIONS - ANNUAL PROJECT
Idea taken from Reaves Party Of Four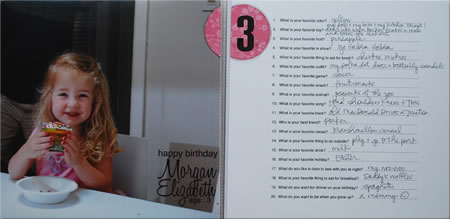 I stumbled across this idea when our little one was almost two and I thought it was such a lovely thing to do I started straight away on her second birthday so I didn't forget.
Obviously I had to answer for her the first year but I've just looked back at them all and it's a lovely memory to keep. She is five now and so I really must get round to putting them in to a scrapbook style book like Nicole has with a photo from each year.
My questions are similar to Nicole's but I used the prompts from the person I originally got the idea off and tweaked them to suit us.
I actually have a rule for you with this one ... shock horror. It's not a tough rule to follow though and you will understand why when I tell you. It is don't ask all the questions at once. Your child will lose interest after a couple and either give you silly answers or not bother answering at all. This year was the first year I have sat down and asked the questions as pure questions but I made it a game and pretended it was an interview and even then we did it in three sessions. In previous years I've taken a couple of questions at a time and just thrown them in to the conversation when we've been doing other things. Our little girl loves to talk so it's not a problem getting her to share information but if your child is quieter you could try bringing toys in to it and making it a game. You could ask favourite teddy what their favourite bedtime story is and then ask your child for example.
Nicole's question prompts are a great place to start and so if you are pushed for time you don't need to put any more thought in to it just grab yourself an inexpensive notebook and write your child's name on the front with a marker pen along with "Annual 20 Questions" and you are away. You only need to write the questions out once at the front then you can just write the answers each year. Remember to number the questions and number the answers so you don't get lost.
If you have a computer then type the questions up in Word, or whatever you prefer to use, and save it as Questions Template then each year you can save it as AGE3, AGE4 and so on and type in the answers.
Remember to back up your files. My computer crashed in spectacular fashion recently and despite thinking I was up to date with my backing up my little girl's annual questions for her 4th year were only on the PC and I was devastated. Luckily I'm completing a book called "Our Story - For My Daughter" and the original that I'd completed as I asked the questions was tucked away in there.
- - - - - - - - - - - - - - - - - - - - - - - - - - - - - - - - - - - - - - - - - - - - - - - - - - - - -
TIME CAPSULE
Idea taken from The Pinning Mama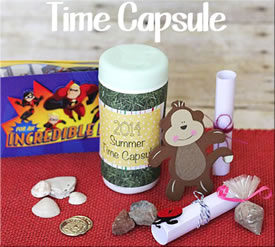 The last one is a bit of fun ... a time capsule.
The first thing to do is to choose your theme. If the capsule is to remember a holiday or an event it can be quite small, like the wet wipes container that The Pinning Mama uses, but if you are going to be saving items from a whole year you will need something bigger like the tins those yummy sweets come in at Christmas, which gives you a good excuse to treat the family.
Decorating your time capsule is up to you. If you, or the kids, enjoy craft then you can embellish away to your hearts content. However if you are not keen on gluing and sticking or you are pushed for time go for something simple. A strip of colourful wrapping paper glued round the tub, or box, with a label stuck to the front will do the job perfectly.
Then you can start collecting things to put in to your time capsule.
Here are some suggestions that The Pinning Mama makes :
Ticket stubs.
Trinkets, toys or things that represent the places you visited.
Rocks or sand from places visited.
Pictures cut from brochures about places you visited.
A small leaf or stick.
A picture your kids drew of the activity.
A family photo.
A tracing of your hand.
A list of activities you did during the summer. Make notes of fun or silly things that happened at each one.
The idea isn't to bury your capsule in the garden instead put it away somewhere ready to get out and look through with the family at a later date. January is a great time to do things like this as things fall a little flat after Christmas and New Year and it would be fun to make a family afternoon or evening of it.
- - - - - - - - - - - - - - - - - - - - - - - - - - - - - - - - - - - - - - - - - - - - - - - - - - - - -
IMPORTANT THINGS TO REMEMBER
If you want your memory keeping projects to last you must use acid and lignin free products.
Your writing is part of you and will be treasured by future generations.
If you are writing about a photo try to include who, when and where. You know these things but your kids might not when they look at the book in years to come and their children certainly won't.
You don't have to write perfect paragraphs ... notes and bullet points will get the message across.
Remember to take your photos off your phone and tablet and save them on to a computer.
If possible keep a copy of the photos on a memory stick away from the computer too.
If you lose those photos you won't get those memories back.
Give the kids the freedom to do things their own way.
It will be fun to see things through their eyes.
- - - - - - - - - - - - - - - - - - - - - - - - - - - - - - - - - - - - - - - - - - - - - - - - - - - - -